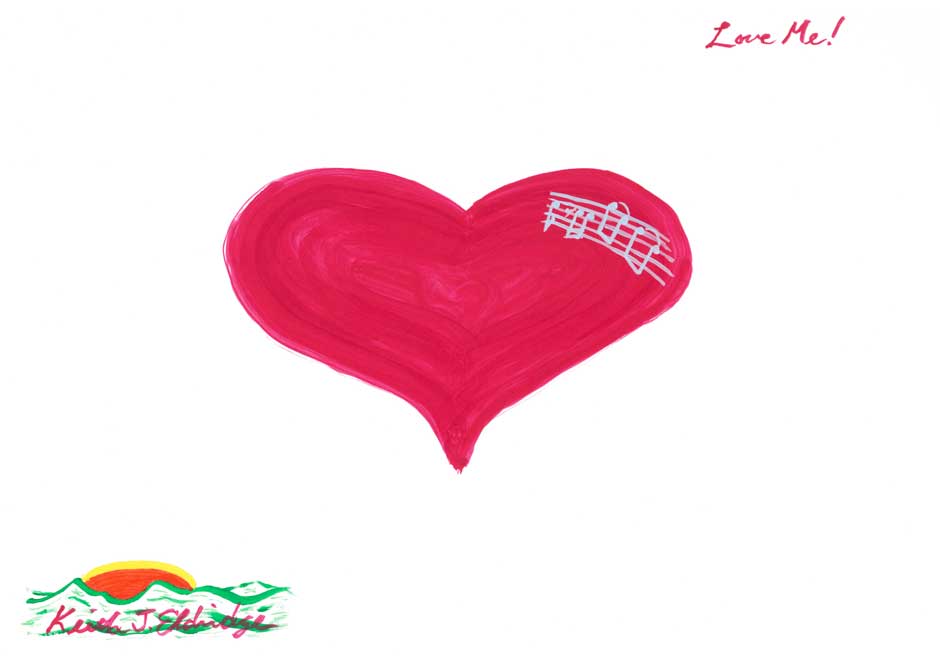 Love Me (with music lines)
Love Me! (version 2, with music lines)
The Love Me! heart, with the music lines is the same as the original "Love Me!" painting, except that it has the music lines in it. This may be particularly attracting for those who have scars on their heart, or who have given scars to others.
This brings out and strengthens love, especially between couples and married couples. This is a calling to your loved one to show you the love that you need to live your life wholefully.
Love, coupled with gratitude is the essence of life, without it, our health will also eventually suffer. Use this for yourself, or present it to another who could use a deepening of their heart!
Inspiration
The music in this painting came straight from a dream I had.
Situation
Anyone who has been in a troubled relationship would benefit from this painting. You may also find that it eases your heart if someone close to you is having or has been in a difficult relationship.
It is always good to rethink and renew your appreciation for your loved one and theirs for you.
Notes
This is the second version of Love Me! The first in the series is Love Me! (without the Music Lines). The essence of the paintings are the same, while the audience may vary.
Music Composition:
Composed: August, 2005 (or earlier)
Recommended together with:
Interested in this design?