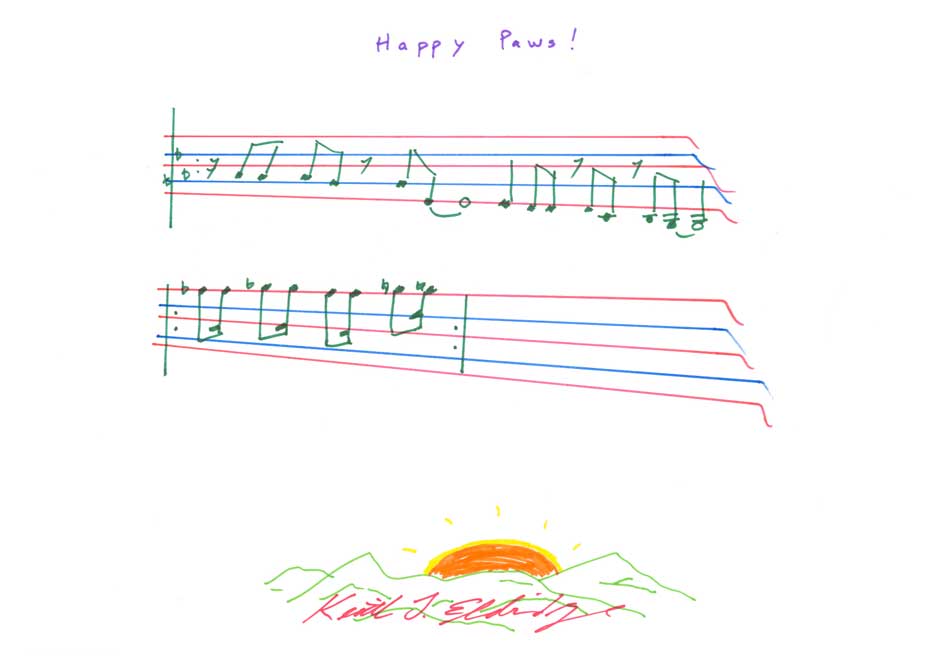 Happy Paws (Healing Power, for Animals)
Happy Paws (Healing Power, for animals)
This design is called "Happy Paws " or "Healing Power for animals." I created this in the healing series as a "get better" wish/prayer for sick animals of all kinds. This includes not only your pets, but animals in the wild as well.
Inspiration
I heard this music in a dream, then woke up and wrote it down. Later I began to "play" with writing the music in a more visually appealing way than just regular sheet music. It sat there for about a year until I realized its meaning. Though I had thought it had something to do with healing, something just wasn't clicking for me to be able to complete the painting.
Then a friend of the family visited us and asked me about her sick dog. Immediately I knew that this was what I had to make this painting for! I ran home, completed two versions of the painting (the other is Healing Power for people) and brought her one for her pet. (If you want to hear about her pet, drop me a line. )
Situation
This is healing art for all animals who are suffering from health issues. Pets are like family members and when the fall sick, especially to diseases (yes, animals also get colds, fevers, cancer, even diabetes) it affects everyone around them.
Notes
This is one of the first designs I made, though it took over a year to add color and finish it.  There are two versions of this drawing, the next version is
#30, "Healing Power"
, which is meant for human beings.
Music Composition:
Composed: January 12, 2006
Recommended together with:
Interested in this design?