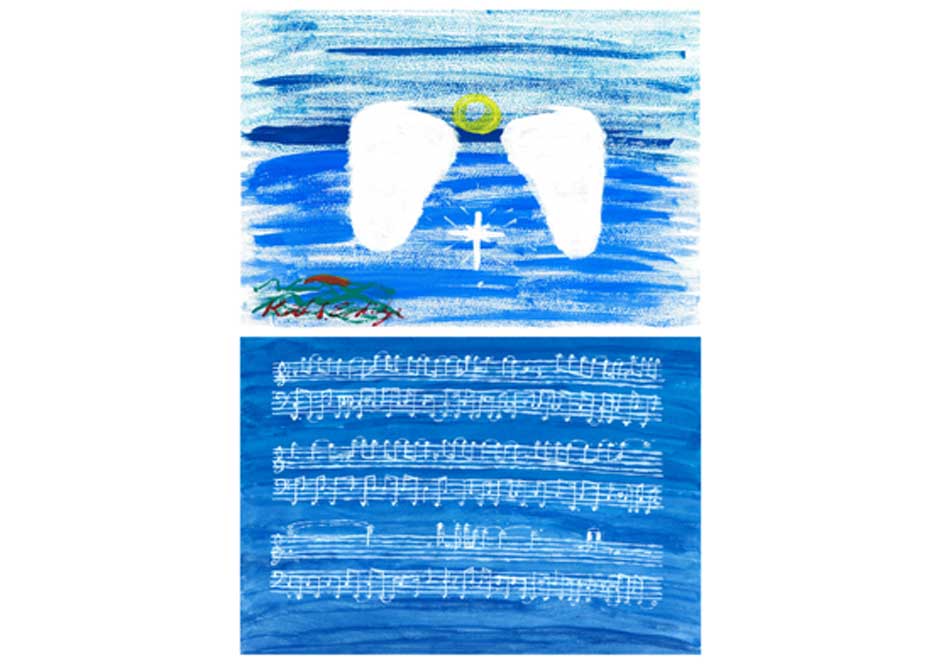 Angels At Work (2 piece set)
Media
Acrylic on Paper (x2)
Orientation
Portrait (combined)
Angels At Work (2 piece set)
This is the third design in a set. The first is "Angels' Doors," the second is "Guardian Angel," and this is "Angels at Work." This original painting is actually in two pieces and was later consolidated into one full picture (#18).
Human beings have been on this Earth for many thousands of years going through our spiritual training. We have created a complex situation here and actually made our training harder. The world is getting darker with all our greedy desires. We've changed our lifestyles over the years and destroyed our environment.
This Angels series brings helpful energy from the other side (the world of light) to give us guidance in our life training. Angels at Work represents Angels here on Earth helping, supporting and guiding people everyday, bringing about miracles all around us to give us hope for a better future! Each music note in the painting is an angel helping someone!
Inspiration
This song just came to me as I sat in front of the piano. I let my fingers do the walking and came up with the music. Later I was thinking about the music while having lunch with my wife and I got the image of the Angel in the center of the painting, and sketched it on a napkin. I went back home and created this design.
After I painted the Angel, I realized there was no space for the song so I painted the song separately, including only a portion of the music. Later I put them together in the full Angels at Work painting (#18).
Situation
If you are searching for divine assistance, hoping for a miracle or desire to change the world for the better, this painting can bring you support.
Notes
This has the same music and design as #18 (Angels at Work), only it is separated into two pieces.
Music Composition:
Composed: August, 2005
Recommended together with:
Interested in this design?